Avast is a well known online security company that has been in operation for over 20 years now. Though their antivirus is the most known, they also have a VPN: Avast SecureLine. The VPN was developed with the aim of providing a straightforward and unobtrusive way of securing connections, and it has been gaining popularity since its launch in 2014. They have been doing well but with Avast being a diversified company, is Avast SecureLine VPN worth investing in? How does it stack against the tough competition in the VPN market?
In this Avast SecureLine review and guide, we seek to help you establish how good the VPN is.
Quick Highlights
What we like
Works with Netflix and other streaming services
Free 7-day Trial
24/7 Phone Support
Solid Security
Supports P2P
Easy to use
30-day money back guarantee
What can be improved
Small server network
Minimal configuration options
Lacks advanced features
Doesn't accept Bitcoin payments
Avast SecureLine Security
Avast SecureLine employs solid security in its VPN clients. The VPN uses 256-bit AES encryption which is very secure. The apps are based on OpenVPN and OpenSSL: the most reliable, widely-used and transparent privacy protection protocols. The Windows client uses OpenVPN (UDP), the industry standard protocol, while the Mac client uses IPSec.
Unfortunately, there are no customization options that allow you to customize your connection. The VPN also lacks the Kill Switch feature which is an important tool for preserving privacy and security whenever you lose VPN connection. Top VPNs like ExpressVPN, NordVPN, and CyberGhost all have this feature.
Avast SecureLine Privacy
Avast SecureLine is registered in the Czech Republic, a friendly country when it comes to invasive data retention laws. Czech is not a member of the 14-eyes countries, and therefore Avast does not get the pressure of recording and storing your online activities. Avast promises that they do not log your activities. i.e. the websites you visit or the apps you use.
However, they do collect some connection data, information that they claim is only used for "diagnostic purposes and to prevent abuse of the VPN connection." This is not the best privacy policy you can find, as NordVPN doesn't collect any data at all. Nevertheless, they state that the data collected is deleted after 30 days.
Avast VPN has a DNS Leak Protection feature that prevents your data from leaking out. We didn't notice any IP address, DNS, or Web RTC Leaks.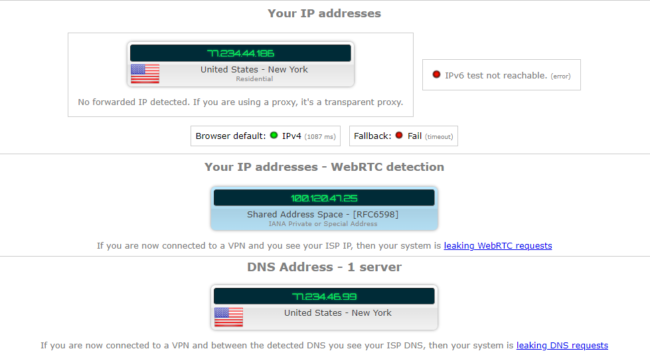 Server Network
Avast Secure Line has a server network of 55 servers spread across 55 locations over 34 countries. For a VPN that has been around for 5+ years, this is quite a small network. The servers are however very well distributed to give you access to content in almost all regions of the world. However, a small server network means that you can be bunged in with many other users in the same server, which in turn lowers performance. Top VPNs like ExpressVPN, NordVPN, and CyberGhost have 3000+ servers which is quite a huge contrast.
Specialized Servers (Streaming & P2P)
Avast SecureLine manages to offer specialized servers within their clients. The two categories offered are P2P Servers and Streaming servers. P2P servers include:
Czech Republic
France
Germany
Netherlands
UK
USA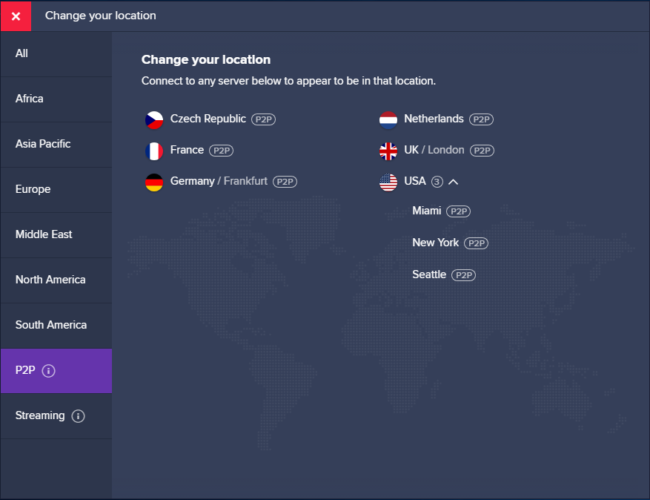 Streaming Servers are in the UK and the US, and they all work with Netflix. This is some great news if you'd like to unblock Netflix Library from these regions as only a few VPNs can.
Speeds
Avast SecureLine can't boast the best speeds, especially when you use the Windows and Android clients which are built on OpenVPN. This can be attributed to the small number of servers that the VPN has. You can however still get decent speeds depending on the server you have connected to, as some can be slower than other.
Avast SecureLine VPN Features
While doing our Avast SecureLine review, we unfortunately didn't notice any standout features. The VPN lacks advanced features like an automatic Kill Switch or an ad/ malware/ tracking blocker. Some of these features can however be found when you combine the VPN with their AntiVirus.
The only significant configuration that the VPN allows you to do is let the app connect automatically when you connect to an unsecured network.
Customer Support
Avast SecureLine does not have live chat support like the top VPNs, but they made up for that with a number you can call 24/7 for a free diagnosis. After calling, you will be redirected to the right agents since the number is used for all Avast products which are quite a number.
Apart from that, they also have a comprehensive database dedicated to the VPN. You can get troubleshooting and installation guides as well as FAQs. The FAQs are grouped according to the VPN devices to make your search easier, and there's also a search button to fully simplify everything. You will get suggested articles just by typing a few keywords.
Compatibility
Avast SecureLine supports Windows, Mac, Android, and iOS devices. You can therefore use it on your computer or smartphone. Unfortunately, you can't install the VPN on a Linux machine as Linux isn't supported yet.
Avast SecureLine doesn't support routers either, and so you can't use it on devices that don't have native support for VPNs. ExpressVPN supports almost all VPN-compatible devices and has a self-installing applet for routers as well as browser extesnsions.
Performance & Ease of Use
Avast SecureLine clients perform quite well, and we didn't experience any major issues with any. They are all super easy to use even for users who don't have much VPN knowledge.
However, there's nothing much you can do with the VPN clients in terms of customizing your connection. There are no standout features, which makes Avast SecureLine a VPN for basic users.
Pricing
Avast SecureLine offers different pricing plans for different devices, and this can be quite confusing so you need to analyze it carefully. The smartphone packages can't be used on a desktop or laptop and vice versa.
The combined package goes for $79.99 a year, $149.99 per 2 years, and $219.99 per three years. Unfortunately, there's no monthly plan.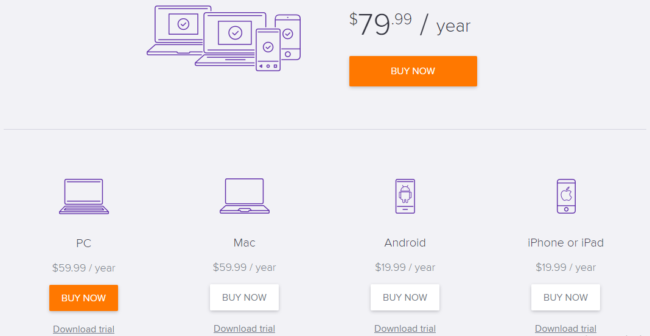 The two year and 3-year plans are way more expensive than all of ExpressVPN , NordVPN , IPVanish , and CyberGhost . This makes Avast SecureLine way too expensive than it should be.
Verdict
From our Avast SecureLine VPN review, the Avast VPN comes out as an average VPN. The VPN is quite good for streaming and torrenting as it has dedicated servers and supports Netflix. On the other hand, it is also a simple VPN, something that doesn't fit advanced users. The biggest con is however it's pricing which is higher than most VPNs, and considering that they only have 55 servers while a VPN like NordVPN has 5050+ servers, this can be quite a turnoff.
If you are looking for a simple VPN for streaming from a trusted company, you can go for Avast SecureLine. However, if you are looking for a top of the class VPN, you should go for a VPN from a company dedicated to that specific product.
Our Top VPN Picks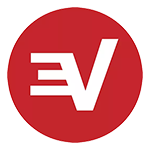 Highlights
Keeps Zero Logs
24/7 Live chat support
Solid privacy & Security
Superfast
3000+ Servers in 148 Location in 92 countries
Allows P2P
Easy to use
Very compatible (including routers & browsers)
Works with Netflix
30-day money-back guarantee
Based in the British Virgin Islands
Best Deal: $12.95 $6.67/mo for 15 Months
30-Days Money-Back Guarantee
Click to SAVE 49% of ExpressVPN
---

Highlights
Keeps Zero Logs
24/7 Live Chat support
Solid privacy & Security
Superfast
5000+ Servers in 62 countries
Allows P2P
Easy to use
Very compatible (including routers & browsers)
Works with Netflix
30-day money-back guarantee
Based in Panama
Best Deal: $11.95 $2.99/mo for 3 years plan
30-Days Money-Back Guarantee
---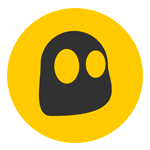 Highlights
Keeps Zero Logs
24/7 Live Chat support
Solid privacy & Security
Superfast
3000+ Servers in 148 Location in 92 countries
Allows P2P
Easy to use (Dedicated modes for various tasks)
Very compatible (including routers & amazon Firestick)
Works with Netflix
45-day money-back guarantee
Based in the British Virgin Islands
$12.99 Best Deal: $2.75/mo for 3 Years plan
45-Days Money-Back Guarantee
Click to SAVE 83% of CyberGhost VPN
---

Highlights
Keeps Zero Logs
24/7 Live chat support
Owns their own network
Solid privacy & Security
Superfast
Works with Netflix
1000+ Servers in 60+ countries
Allows P2P
Easy to use
7-day money-back guarantee
Very compatible (including routers & browsers)
Best Deal: Use Code: DROID20 to apply discount of $11.99 $5.20/mo for 1 year plan
7-Days Money-Back Guarantee